Weekly Summary: December 13 – 17, 2021
Key Observations:
In our opinion, the Federal Reserve's (Fed) latest policies disclosed this week were more hawkish than consensus anticipated. Same day financial markets' reactions were more compatible with more dovish policies.
We understand that targeting inflation is the Fed's best approach to ensuring a growing economy, as well as relatively stable financial markets and conditions, e.g., a "blue sky."
Fed's fear of inflation expectations becoming "entrenched" overcomes its skepticism of inflation's "persistence."
Fed's "dot plot" indicates three interest rate hikes in 2022. We suppose at present that a March hike is most likely.
The Upshot: We have little doubt that central banks will increasingly adopt the Fed's approach that reining in inflation is probably the most auspicious way to ensure a stable and growing economy. The Bank of England (BOE) has already chosen that path this week.
Can a "Blue Sky" be Compatible with Inflation and Covid-19 Variants?
To paraphrase The Allman Brothers Band's song "Blue Sky," when the sky is blue, it's a lot easier to "walk along the river … [that] just keeps on flowing" when you "don't worry 'bout where it's goin'." After all, everything seems to look better under a blue sky, and most people do, in fact, feel better and worry less. We analogize most equity markets over this past year to the river flowing along and most investors not worrying where equites were going because they assumed that the equity markets would continue their ascent eventually. Most governments and their central banks want to provide consumers and investors with stable and growing economies – a "blue sky" – so that these mostly favorable trends will continue. As we have indicated in many of our prior weekly commentaries, persistent inflation has started to dampen many consumers' sentiment and confidence. Investors' concerns about inflation have become more acute as well. COVID-19 infections and their variants – including the Omicron variant – have also started to cloud the sky. The Fed cannot do anything to combat coronavirus. So it has decided to combat elevated inflation more aggressively. We surmise that the Fed now believes that the best way to continue robust U.S. economic growth is to rein in inflation and to ensure, in the Fed's own words, that inflation expectations will not become "entrenched."
BOE Raises its Bank Rate
The BOE seems to share the Fed's sense of priorities. On December 16, the BOE unexpectedly raised its Bank Rate 15 basis points (bps) to 0.25% by an 8-to-1 vote in its Monetary Policy Committee (MPC). The MPC meeting minutes noted that its decision had been "finely balanced." Furthermore, the MPC determined that the risks from rising inflationary pressures had to be addressed first, even before more data could be compiled about Omicron's effects. Like Fed chair Powell, the MPC was becoming increasingly worried about inflationary expectations becoming entrenched.
China's Blue Sky
The Chinese government has adopted a literal interpretation for a blue sky to make things go more smoothly and be more enjoyable. In its desire to secure a blue sky for the Beijing Winter Olympics early next year, the Chinese government has tried to repress carbon dioxide emissions by rationing coal-generated electricity to various companies. It looks like appearances do matter after all.
Fed More Hawkish than Consensus
Mid-week, the Federal Open Market Committee (FOMC) – a committee within the Federal Reserve System – announced its decision to accelerate the taper of its asset purchase program, so that it could conclude such purchases by sometime in March. We had been expecting this for quite some time. By the time of the announcement, our view had become the consensus view. But the Fed was actually more "hawkish" than was anticipated. Powell made it clear that the Fed might not even need to "pause" between the end of its taper and an interest rate hike. Prior to the press conference that followed the Fed meeting, Powell had expressed a strong desire that there should be some time elapsed between the end of taper and the Fed's first interest rate hike. We view this as an important change in Powell's expressed outlook. We suppose that Powell is very deliberate and does not want to "surprise" financial markets. We now think that it is more likely than not that the Fed will announce a rate increase at its March 15-16, 2021 meeting. The Fed's subsequent meeting, after March 16, is currently scheduled for May 3-4. Another more-hawkish-than-expected indication by Powell was that he intended to discuss the "runoff" of the Fed's balance sheet in subsequent meetings after this most current meeting. This might entail the Fed selling its asset holdings. Again, we assume that Powell would mention this only if he were contemplating a balance sheet runoff sooner than financial markets would expect.
Fed Inflation Perspectives and Desire for Stable Markets
Although the FOMC eliminated the term "transitory" inflation from its post-meeting statement, it did not completely abandon its notion of not persistent inflation. "Supply and demand imbalances related to the pandemic and the reopening of the economy have continued to contribute to elevated levels of inflation." Powell further pressed his commitment to a less-persistent type of inflation in his press conference opening remarks: "Like most forecasters, we continue to expect inflation to decline to levels closer to our 2 percent longer-run goal by the end of next year." Powell communicated that the median inflation projection of FOMC participants fell from 5.3% in 2021 to 2.6% next year, which is "notably higher" than projected in September. The Fed also reiterated its preference for stable markets. "The Federal Reserve's ongoing purchases and holdings of securities will continue to foster smooth market functioning and accommodative financial conditions, thereby supporting the flow of credit to households and businesses." Sounds like a good version of a "blue sky" for financial markets.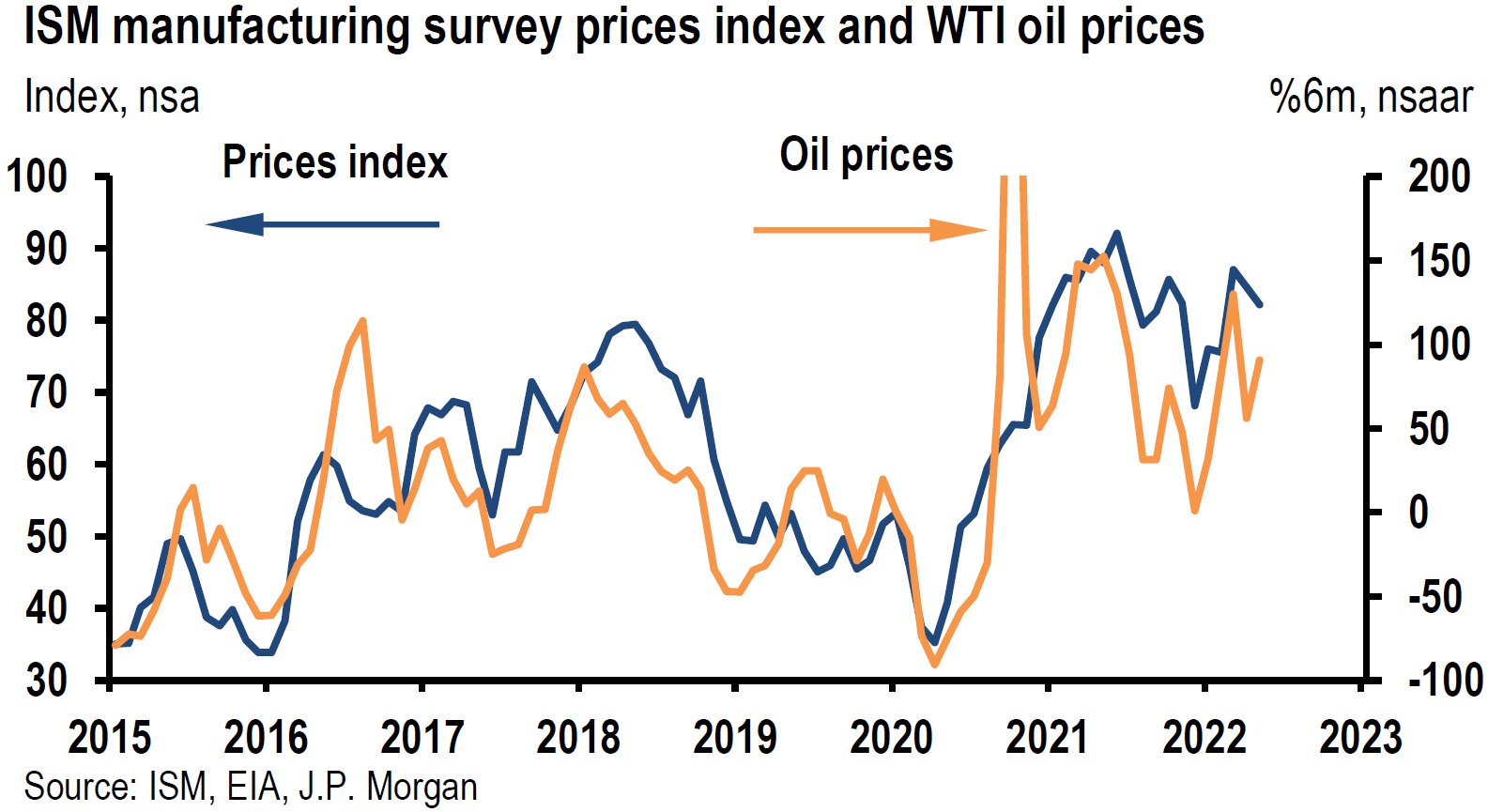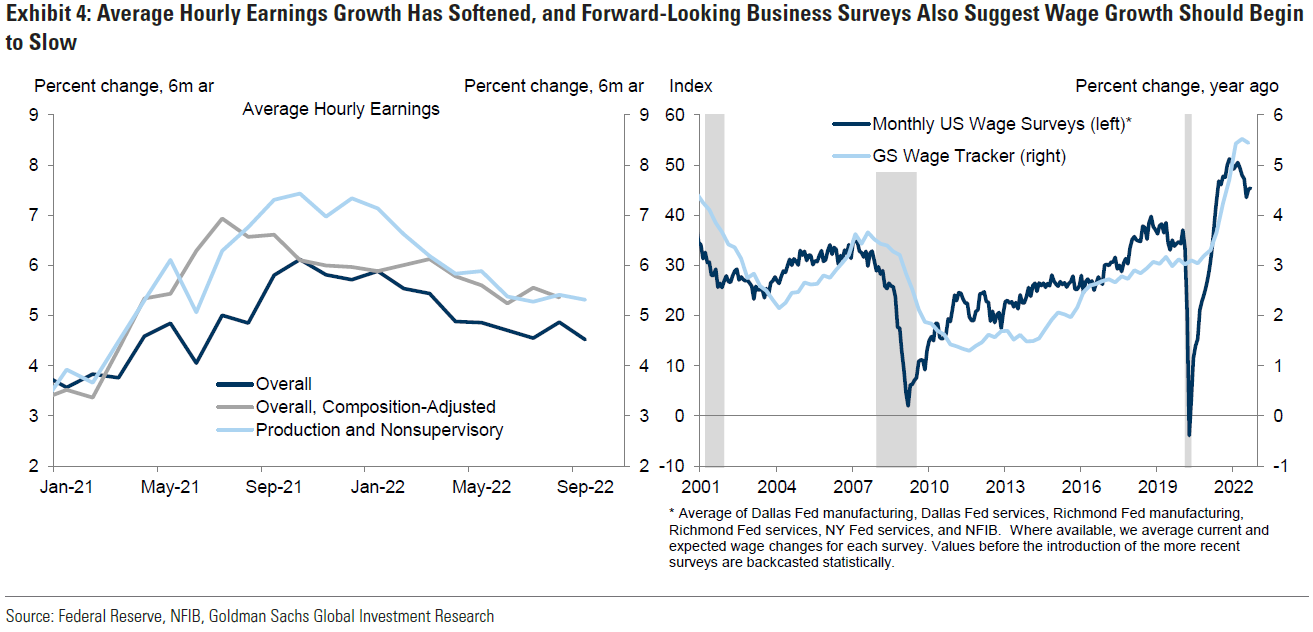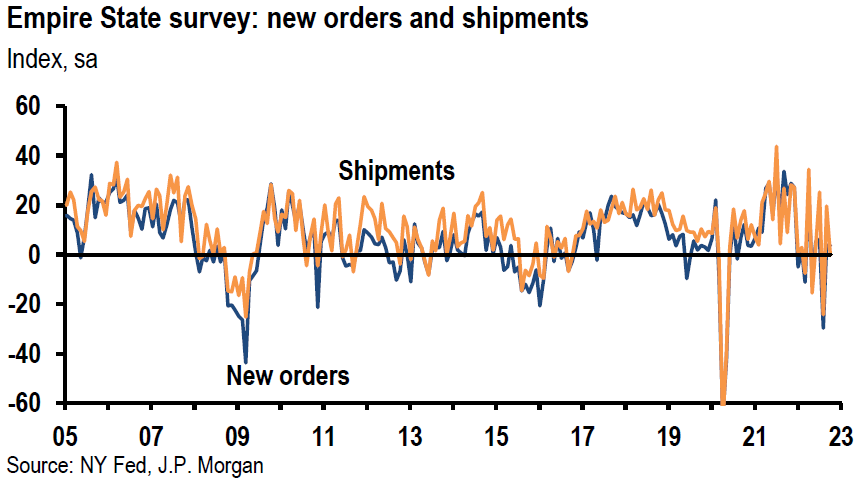 Source: J.P. Morgan, US: Widespread strength in the November PPI (12/14/21)
Inflation – Bottlenecks, Supply Constraints and Increased Wages
Powell's prepared opening statement to his press conference of December 15 explained more clearly his current thinking on inflation. Powell emphasized that bottlenecks and supply constraints were "limiting how quickly production can respond to higher demand in the near term. These problems have been larger and longer lasting than anticipated, exacerbated by waves of the virus." Powell then observed that "price increases have now spread to a broader range of goods and services." Although Powell commented that wages have risen briskly, so far he did not view wages as having "been a major contributor to the elevated levels of inflation." However, Powell was "attentive to the risks that persistent real wage growth in excess of productivity could put upward pressure on inflation." Our last weekly commentary stressed that this was already a problem. We noted that, according to the latest data on U.S. nonfarm labor productivity released by the Bureau of Labor Statistics, the annualized decrease of labor productivity was the biggest quarterly decline since 1960. To reiterate from our prior weekly: "Lower productivity levels tend to boost inflation as companies try to maintain their profit margins." Once again, the Fed was "behind the curve" in reining in inflation. Remarkably, Powell still insisted in the press conference that he did not believe that the Fed was behind the curve. We maintain that his actions say otherwise.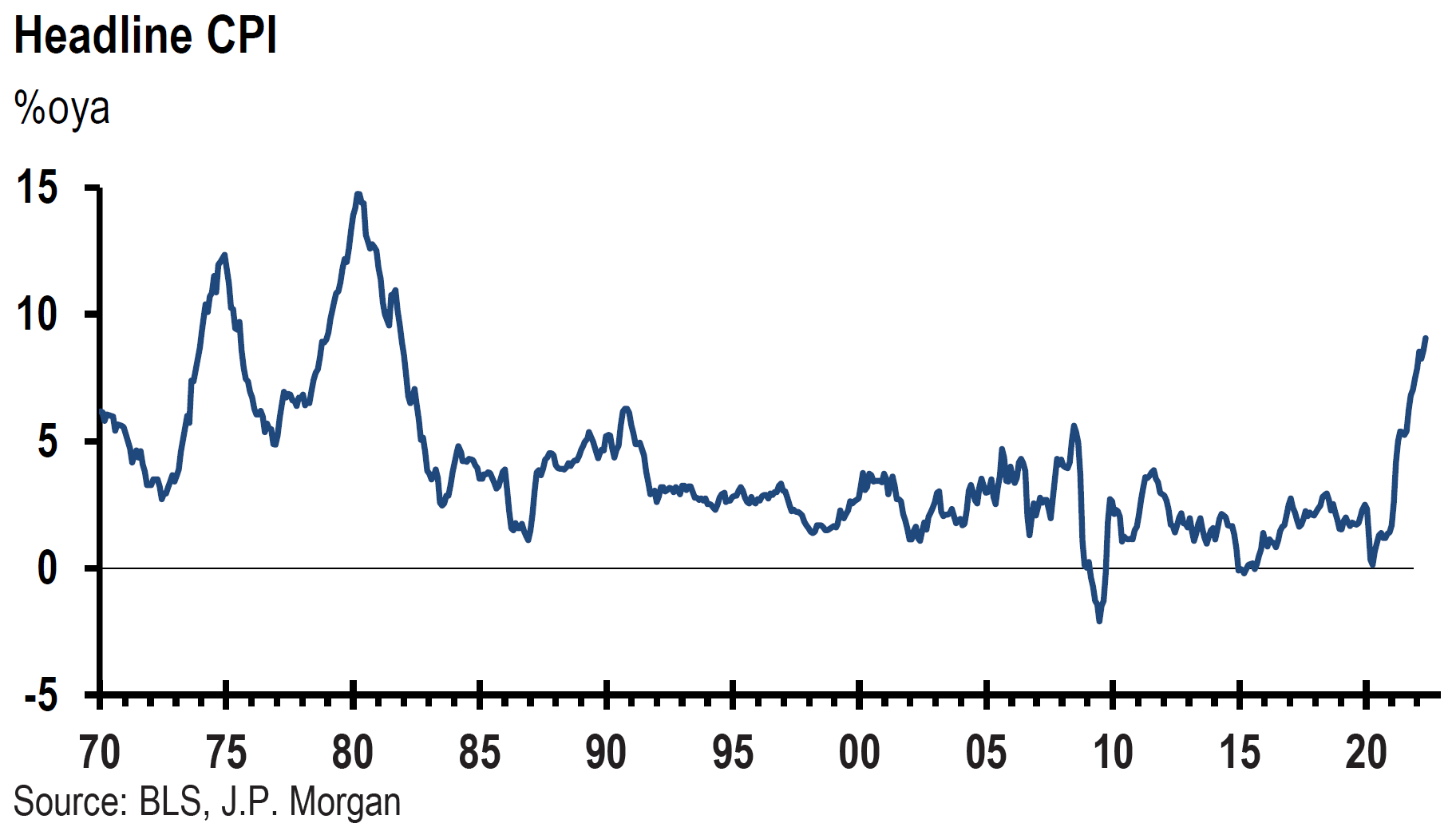 Source: Citi, GLOBAL SUPPLY CHAINS: The Complicated Road Back to "Normal" (12/16/21)
Anticipated Fed Rate Hikes According to its "Dot Plot"
The FOMC's so called "dot plot" further indicated a slightly more hawkish bias than some investors and/or analysts had anticipated. According to J.P. Morgan on December 15, the Fed's updated Summary of Financial Projections now show tighter labor markets and higher inflation in 2022, but more modest changes in 2023 and beyond. As expressed in this summary, the median projection for real GDP growth of the FOMC participants was 5.5% for 2021 and 4% next year. After the revisions, the FOMC's median dot plot now projects three interest rate hikes in 2022, three in 2023 and two in 2024. Up to 19 Fed officials can contribute a dot anonymously for each calendar year of the Fed's dot plot to indicate where they believe the federal funds rate should be each year. The 19 participants are comprised of the seven members of the Fed's Board of Governors and the presidents of the Fed's 12 regional banks. There were 18 participants in this latest dot plot. Two-thirds of participants projected three or more hikes in 2022. By all indications, the Fed believed that it was getting close to "maximum employment" as will be determined by the FOMC. This is the only missing piece before the Fed makes its first interest rate hike. Powell clearly expressed his conviction on the employment question: "Amid improving labor market conditions and very strong demand for workers, the economy has been making rapid progress toward maximum employment."
Financial Markets' Reaction to Fed Meeting
The stock market reaction after the Fed announcements was as if the Fed had articulated "dovish" policies. Many market observers confidently expressed their opinion that Powell had done a "masterful" job in appeasing investors. The Nasdaq index was the best performing major U.S. equity index. Technology stocks were the best performing S&P 500 sector while the energy sector was worst. Defensive type sectors generally outperformed Value and Cyclical type stocks. Interest rates modestly rose and steepened, and the U.S. Dollar declined. The very next day painted an entirely different scenario. The Nasdaq reverted to being the worst performing major U.S. equity index. Financials were now atop the S&P 500 index, energy became third best and technology was worst. Interest rates declined and the Treasury yield curve steepened, except the two-year vs. five-year Treasury spread. The U.S. Dollar declined even more than the prior day. The side-by-side juxtaposition of the trading for these two days illustrates very well our expectation of continuing volatility in the financial markets. The day-to-day reactions of financial markets have almost become a random and unpredictable path.
Economic Data Still Indicates Robust Growth and Inflationary Pressures
None of the economic data released this week has significantly changed our opinion about the prospects of continued and robust U.S. economic growth going into next year. This includes the disappointing U.S. November retail sales that followed surprisingly very strong October numbers. We assume that much of holiday related retail sales were brought forward after media's attention on the possibility of inventory shortages of desired items. Furthermore, U.S. import prices only added to our concern of continuing inflationary pressures. The surprisingly strongest U.S. housing starts since March, 2021, the 0.5% month-over-month U.S. industrial production increase combined with the industrial production's highest year-over-year increase reading since September 2019 of 5.3% were enough to push Goldman Sachs on December 16, to raise its U.S. GDP Q4 forecast by 0.5% to 7.0% quarter-over-quarter annualized growth. After a down 1% month in September, U.S. industrial production had risen by a revised 1.7% month-over-month reading in October. The September downturn was reflective of severe supply constraint issues. Goldman emphasized the auto manufacturing increase of 2.8% month over month, which was at its highest level since January 2020.
Source: Citi, GLOBAL SUPPLY CHAINS: The Complicated Road Back to "Normal" (12/16/21)
Bottom Line
In spite of the Fed's attempt to ensure a relatively stable and growing economy, we remain agnostic about the success of such a strategy as the Fed has become increasingly hawkish. We continue to expect ongoing volatility in financial markets. The divergent financial market reactions to the Fed's policy announcements on consecutive days only adds to our conviction of ongoing volatility in the short-to-intermediate term. We believe that economic data released this week confirms our stance that – on a risk/reward basis at current prices – a robust economy with persistent inflation remains as the most advantageous environment to add to equity positions in Value and Cyclical type stocks on market downturns. We anticipate that European and emerging markets (EMs) will become increasingly attractive as the global economy expands. We have not lost our faith that interest rates will eventually rise in the not-too-distant future.
The Omicron variant, of course, will be a continuing concern. Its ultimate effects on economic activity and financial markets remain unknowable at present. We view the latest downturn in interest rates as problematic. There have been some days this week when certain sectors and/or individual stocks have traded as if interest rates were rising even as they traded lower. When asked during his press conference about the inability of U.S. interest rates, especially the 10-year Treasury yield, to trade higher, Powell surmised that Treasury yields remained attractive to foreign buyers relative to their own sovereign yields. Perhaps foreigners are becoming more risk averse as Omicron concerns are rising. We expect that the U.S. is less susceptible to general lockdowns relative to many other countries. We also believe that the U.S. will be more resilient in dealing with the effects from Omicron relative to most countries.
Charts of Interest:
Source: Goldman Sachs, Global Strategy Views: What's new for 2022? (12/13/21)
Source: Goldman Sachs, Strategy in Style: Implementing styles, themes and industry views with baskets (12/16/21)
Source: Citi, GLOBAL SUPPLY CHAINS: The Complicated Road Back to "Normal" (12/16/21)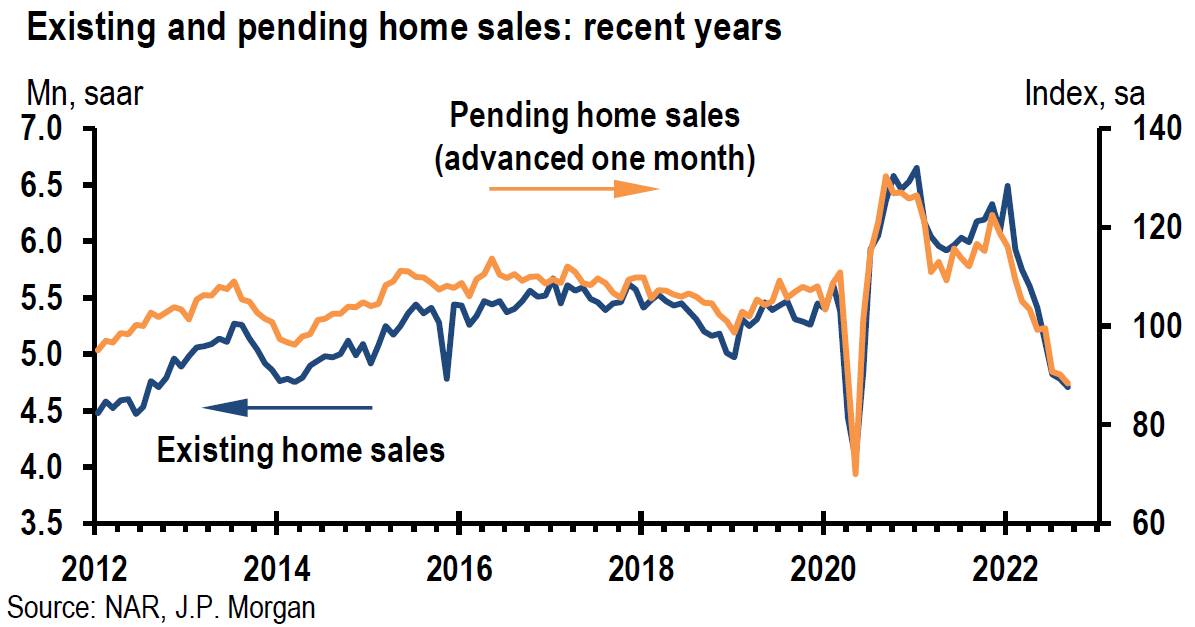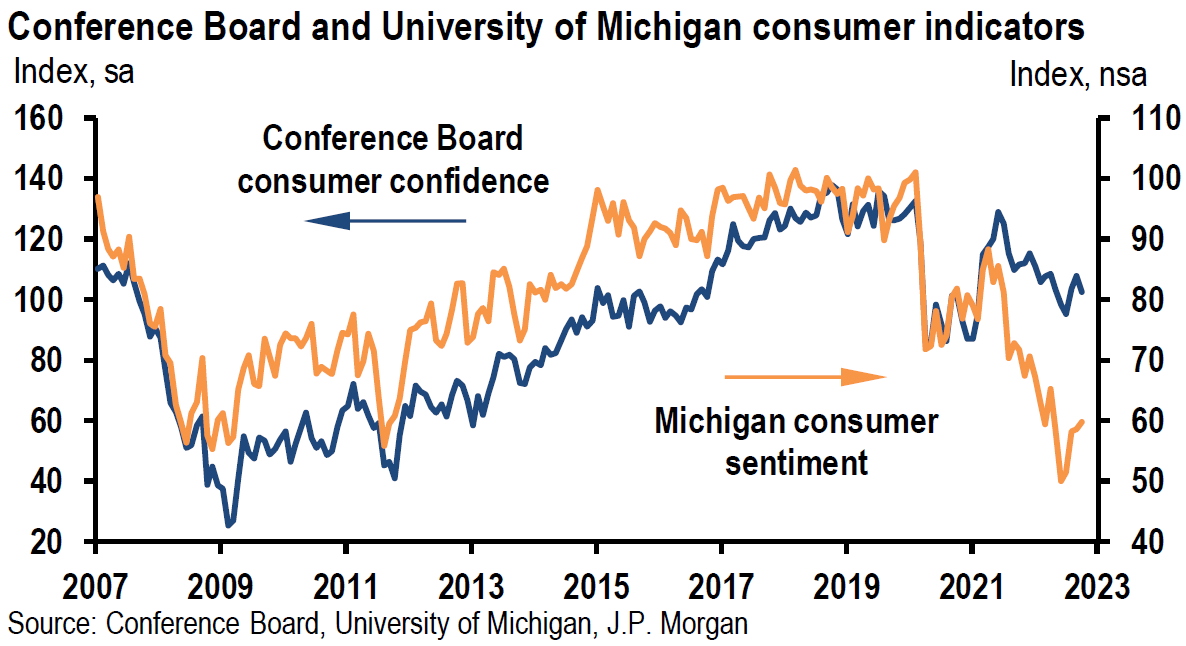 Source: Citi, Global Economic Outlook: The Complicated Road Back to "Normal" (12/15/21)
INDEX DEFINITIONS
KBW Nasdaq Bank Index (BKX): The KBW Bank Index is designed to track the performance of the leading banks and thrifts that are publicly-traded in the U.S. The Index includes 24 banking stocks representing the large U.S. national money centers, regional banks and thrift institutions.
MSCI EM Value Index: The MSCI Emerging Markets Value Index captures large and mid cap securities exhibiting overall value style characteristics across 27 Emerging Markets (EM) countries.
MSCI EM Index: The MSCI Emerging Markets Index captures large and mid cap representation across 27 Emerging Markets (EM) countries.
NASDAQ: The Nasdaq Composite Index is the market capitalization-weighted index of over 2,500 common equities listed on the Nasdaq stock exchange.
PCE: Personal Consumption Expenditures (PCEs) refers to a measure of imputed household expenditures defined for a period of time.
Russell 1000 Growth: The Russell 1000 Growth Index measures the performance of the large-cap growth segment of the U.S. equity universe. It includes those Russell 1000 companies with higher price-to-book ratios and higher forecasted and historical growth values.
Russell 1000 Value: The Russell 1000 Value Index measures the performance of the large-cap value segment of the U.S. equity universe. It includes those Russell 1000 companies with lower price-to-book ratios and lower expected and historical growth rates.
S&P 500: The S&P 500 Index, or the Standard & Poor's 500 Index, is a market-capitalization-weighted index of the 500 largest publicly-traded companies in the U.S.
VIX: The VIX Index is a calculation designed to produce a measure of constant, 30-day expected volatility of the U.S. stock market, derived from real-time, mid-quote prices of S&P 500® Index (SPX℠) call and put options.
Z-Score: A Z-score (also called a standard score) gives an idea of how far from the mean a data point is. It is a measure of how many standard deviations below or above the population mean a raw score is.
IMPORTANT DISCLOSURES

The views and opinions included in these materials belong to their author and do not necessarily reflect the views and opinions of NewEdge Capital Group, LLC.
This information is general in nature and has been prepared solely for informational and educational purposes and does not constitute an offer or a recommendation to buy or sell any particular security or to adopt any specific investment strategy.
NewEdge and its affiliates do not render advice on legal, tax and/or tax accounting matters.  You should consult your personal tax and/or legal advisor to learn about any potential tax or other implications that may result from acting on a particular recommendation.
The trademarks and service marks contained herein are the property of their respective owners. Unless otherwise specifically indicated, all information with respect to any third party not affiliated with NewEdge has been provided by, and is the sole responsibility of, such third party and has not been independently verified by NewEdge, its affiliates or any other independent third party. No representation is given with respect to its accuracy or completeness, and such information and opinions may change without notice.
Investing involves risk, including possible loss of principal.  Past performance is no guarantee of future results.
Any forward-looking statements or forecasts are based on assumptions and actual results are expected to vary from any such statements or forecasts. No assurance can be given that investment objectives or target returns will be achieved. Future returns may be higher or lower than the estimates presented herein.
An investment cannot be made directly in an index. Indices are unmanaged and have no fees or expenses. You can obtain information about many indices online at a variety of sources including:  https://www.sec.gov/fast-answers/answersindiceshtm.html or http://www.nasdaq.com/reference/index-descriptions.aspx.
All data is subject to change without notice.
© 2022 NewEdge Capital Group, LLC