Weekly Summary: December 6 – 10
Key Observations:
People, governments, policymakers and financial markets appear to have a shared goal of "let the good times roll." Out of necessity, their approaches are quite varied.
The mounting evidence that the medical community will be able to mitigate the negative effects from the Omicron variant should go a long way toward our shared goal
Global economic data continue to show robust economic growth and some easing of supply chain issues, most recently in the U.S. and Asia.
As we occupy our current "transition" status and move back to more "normal" and recognizable lifestyles, the risk of policymakers' missteps and too restrictive approaches with respect to COVID-19 could increase, in our opinion. This includes too lenient or too restrictive monetary policies, depending on each country's circumstances.
The Upshot: Given the impressive advancements in medical science with respect to COVID-19 and its variants, both known and unknown, our main concern is becoming policy missteps and too restrictive policies, especially with respect to mobility issues.
Various Approaches to Continue the "Good Times"
People, governments and markets would all like to share in B.B. King's exuberance. To paraphrase B.B. King, it doesn't matter if you're young or old, people want to "get together [and] let the good times roll." Due to COVID-19 infections, governments have often put restrictions on getting together. During such mandated restrictive behavioral periods, governments' version of "let the good times roll" has instead wished that they could more explicitly tell consumers that "you gotta spend some cash" to keep their economies "rolling" along. Perhaps even more obvious is the determination of financial markets, especially equity markets, to "let the good times roll," as evidenced by the very quick rebound in the first part of this week from its most recent sell-off. Even the Federal Reserve (Fed) is on board as it prepares to announce a quickened pace of its recently-announced tapering program. As we explained in our previous weekly commentary, the Fed is hoping that by focusing on reining in inflation, and thereby helping to lift consumer confidence so that they would continue to spend, it will not later be "forced" to take more aggressive action that might cause a more abrupt slow-down in the U.S. economy. Most recently, China felt compelled to adopt more easy policy stances to foster more robust economic growth while maintaining focus on its core goals, such as "common prosperity" and more specific regulatory reforms that target its largest technology/internet companies and the property sector.
Controlling Omicron
Continuing supply chain issues, long delivery times, a very tight U.S. labor market, more persistent elevated inflation, and the seemingly endless varieties of new Covid-19 variants have brought into question whether we will be able to "let the good times roll." As reported by CNBC on December 7, Pfizer's CEO Albert Bourla indicated that the COVID-19 Omicron variant appeared to be milder than previous strains but also seemed to spread faster, which could lead to more future mutations. Bourla also was confident that Pfizer's oral antiviral medication – Paxlovid – would be an effective treatment against Omicron and all other variants that have emerged to date. This pill inhibits the enzyme protease that the virus needs to replicate. Furthermore, Bourla expressed his confidence that a third shot from Pfizer – a booster shot – could provide virus-fighting abilities comparable to the 95% protection provided by two doses against the virus's original strain.
Government Policies
We are becoming increasingly confident that COVID-19 will become less of an impediment to economic growth over time and that many resultant supply chain issues will continue their easing trend. But we are becoming less confident with respect to government's "overreacting." In general, we do not anticipate general lockdowns, especially in the U.S. But very high hospitalization rates and lack of intensive care beds could still lead to targeted lockdowns. Because of Omicron's very rapid transmissibilty, many governments appear to increase restrictions quickly before they have full knowledge of Omicron's virulence and other factors. The U.K. has already instituted onerous travel restrictions for anyone entering its borders and has indicated its preference for mask wearing and working at home. Many countries also are contemplating mandatory vaccinations. We assume that some of these mandates will be met by increasing resistance, at least by a core of some individuals. Therefore, we presume that international travel could remain problematic for quite some time.
Promising Asian Economic Growth
We envisage that China's zero-tolerance policy will remain in place at least through the Beijing-hosted winter Olympics early next year. This policy could exacerbate supply issues and increase inflationary pressures at any time. Additionally, this policy might derail even the recent very promising economic growth trends in Asia's emerging markets (EMs). According to J.P. Morgan on December 7, China's export and import data for November revealed strong trade growth with EM Asia, but a decline to major developed markets (DMs). Easing supply bottlenecks were the most likely explanation for these encouraging signs of EM growth. Also on December 7, Goldman Sachs divulged that China's imports rose much more than the expected 31.7% year-over-year and the sequential monthly increase of 10.2%. China's export growth rate slowed to 22.0% year-over-year and a 0.9% sequential gain. Higher imports of crude oil, coal and electronic integrated circuits were noteworthy.
Source: Citi, Global Shipping: Global Supply Chain – Congestion Tracker – No Easing (12/8/21)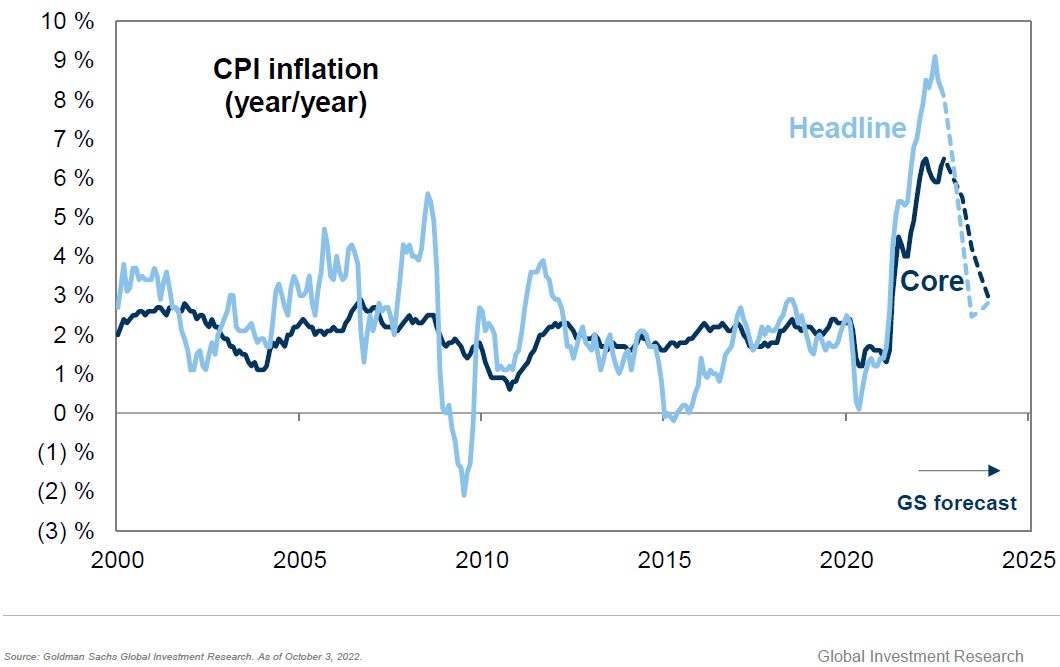 Source: J.P. Morgan, China: November exports continued with solid growth; notable pickup in imports hints at stabilizing FAI (12/7/21)
Source: J.P. Morgan, US MARKET INTELLIGENCE: MORNING BRIEFING (12/7/21)

China Policies Become More Accommodating
In spite of these recent and very favorable economic trends in China and EM Asia, China became sufficiently concerned over the Omicron variant that the Chinese government and its central bank, the People's Bank of China (PBOC), both shifted towards more "easy" pro-growth policies to ensure that the "good times roll." There is little doubt that the China's Communist Party (CCP) is still in control. On December 6, Goldman Sachs observed that a comment by China's Premier, Li Keqiang, from last Friday that lowering the reserve requirement ratio (RRR) of China's banks would support the real economy was promptly followed by the PBOC's statement this past Monday that it would follow that "suggestion." In its December 6 meeting, the Politburo – the decision making body of the CCP – emphasized stable economic growth as a priority for 2022. According to Citi Research's December 7 report, the phrase "housing is for living and not speculation" was replaced by the need to accelerate construction of affordable housing and to satisfy reasonable real estate demand. This obviously indicated a more accommodative stance with respect to China's property sector, which has been a big economic growth engine in the past. The need to ensure power supply for residential usage was also emphasized. A stronger policy push for infrastructure spending was encouraged. On December 7, Goldman Sachs suggested that China's policymakers did not want to risk overstimulating the economy. In announcing its latest RRR cut, PBOC reiterated: "no flooding the market with liquidity" and that its "prudent" monetary policy was left unchanged. As reported by Xinhua Net on December 8, a senior National Bureau of Labor Statistics (NBS) statistician indicated that China's still high producer price index (PPI) of 12.9% year-over-year in November was slightly lower than October's record setting level of 13.5% due to policies which tried to ensure sufficient and stable supplies of energy and raw materials, including coal and metals.
Source: Citi, China Economics: PPI-CPI Gap Starts to Narrow (12/8/21)

Encouraging U.S. Economic Data
Although somewhat volatile in the past few months, U.S. October exports were very strong and the U.S. trade deficit shrank to $67.1 billion from a revised $81.4 billion in September. The decreased trade deficit was mainly due to the decrease in the goods deficit as imports showed a slight surplus according to the U.S. Census Bureau release on December 7. It was the smallest U.S. trade deficit in six months. Strength in U.S. exports was across the board. The U.S. Bureau of Labor Statistics (BLS) released nonfarm business sector labor productivity on the same day. The annualized decrease in labor productivity of -5.2% was the biggest quarterly decline since 1960. The yearly 0.6% decrease of productivity was the largest decline since the fourth quarter of 1993. On an annualized basis, the unit labor costs increased by 9.6% quarter-over-quarter, which reflected a 3.9% increase in compensation. Lower productivity levels tend to boost inflation as companies try to maintain their profit margins. Once again, U.S. economic data confirmed its recent pattern of strong economic growth combined with increasing inflationary pressures.
Source: Citi, US Economics: Trade balance tightens on very strong exports (12/7/21)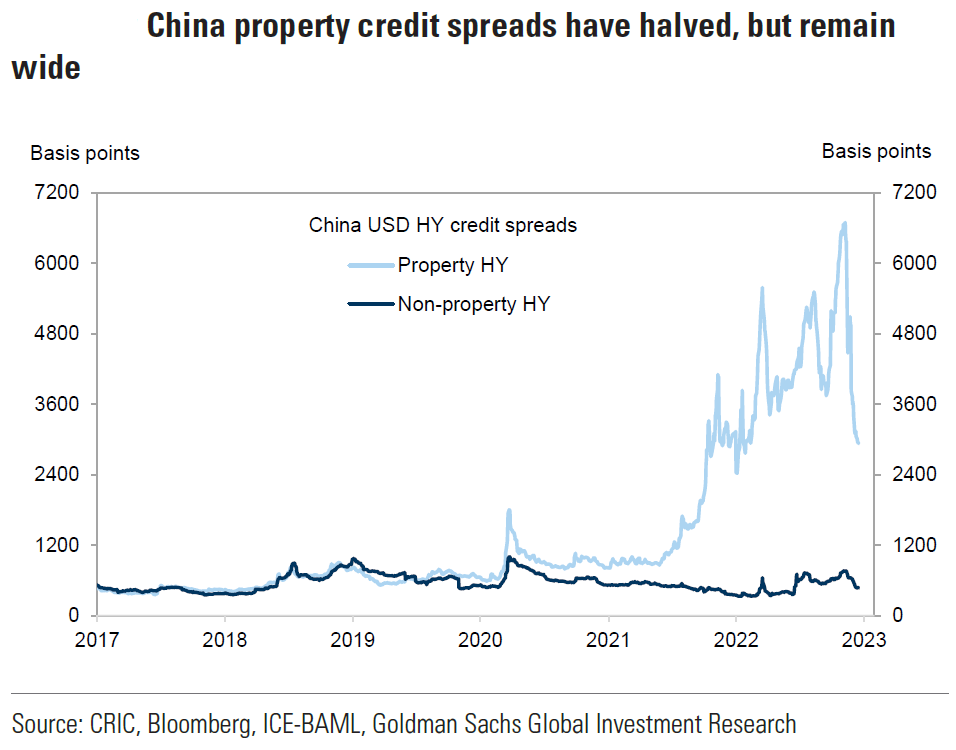 Source: J.P. Morgan, US: Revisions push unit labor cost data higher (12/7/21)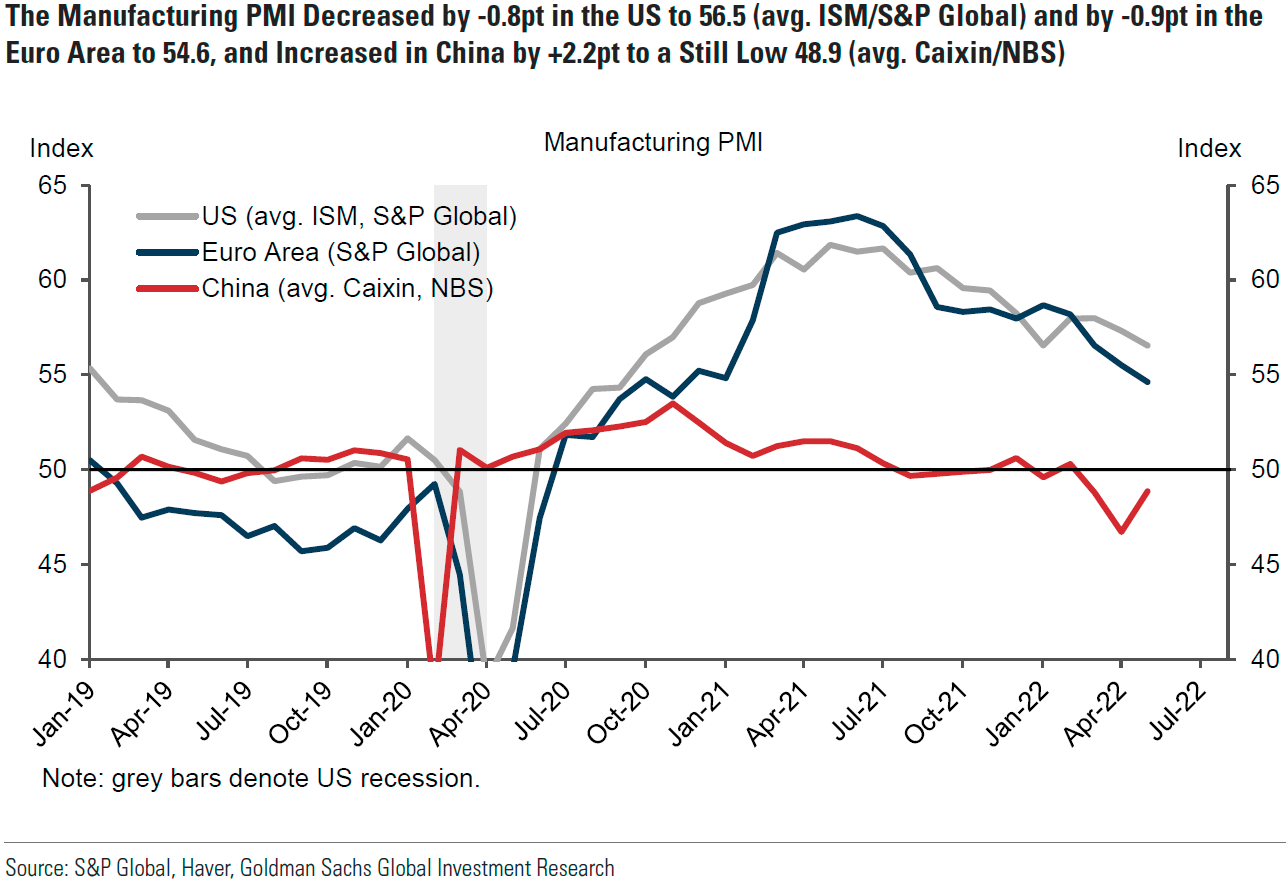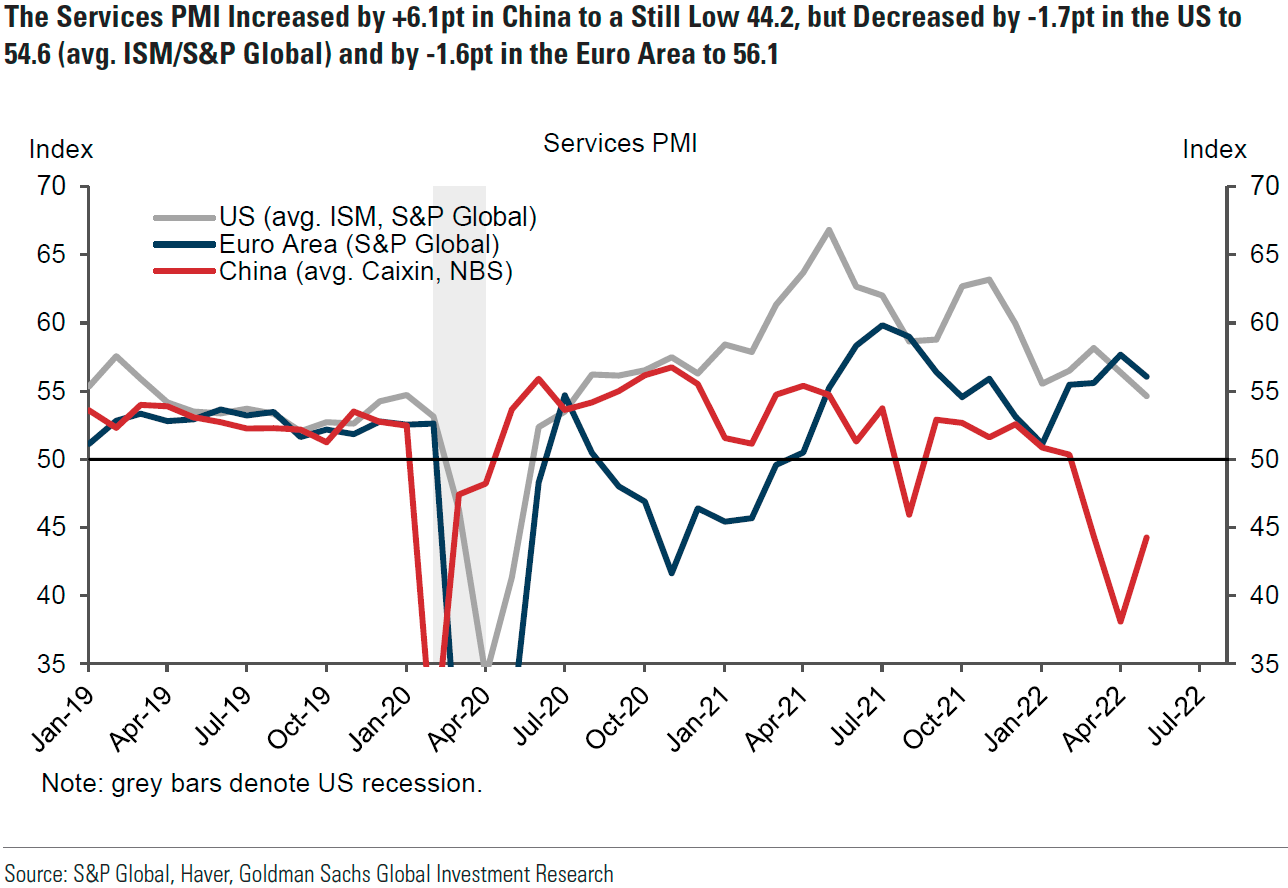 Source: J.P. Morgan, US: October jump in exports is close to expectations (12/7/21)

Tight U.S. Labor Market
The inflationary pressures from a tight U.S. labor market further were confirmed later this week with the release of the Job Openings and Labor Turnover Summary (JOLTS) data released by the BLS. The data revealed that U.S. job openings increased by a much larger than expected 431,000 from the prior month to 11.03 million on the last business day of October, which is close to the record high. The so-called quits rate declined to 2.8% from the series record high rate of 3.0% for the prior month. This rate is taken as an indication of employee's level of confidence of finding another job. The higher the quits rate, the tighter the labor market. The number of unemployed persons per job offered remained stable at about 0.7. The initial U.S. jobless claims unexpectedly dropped to a pandemic low as well – more confirmation of tight labor market conditions.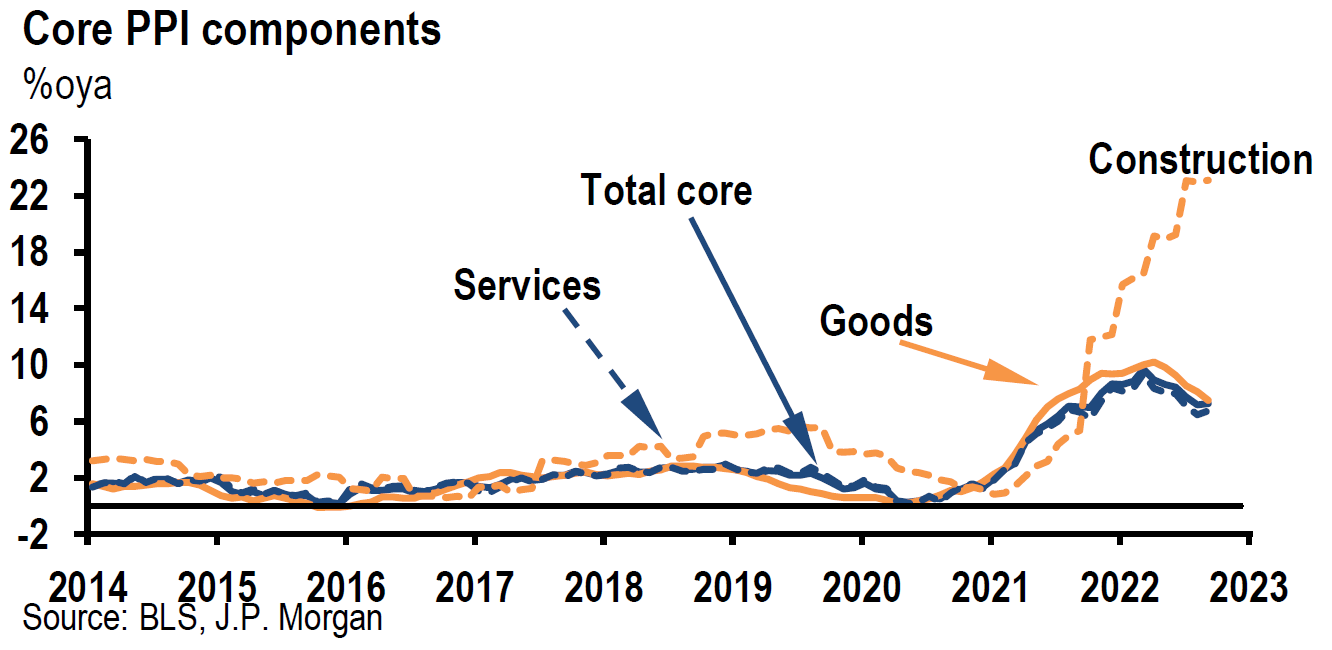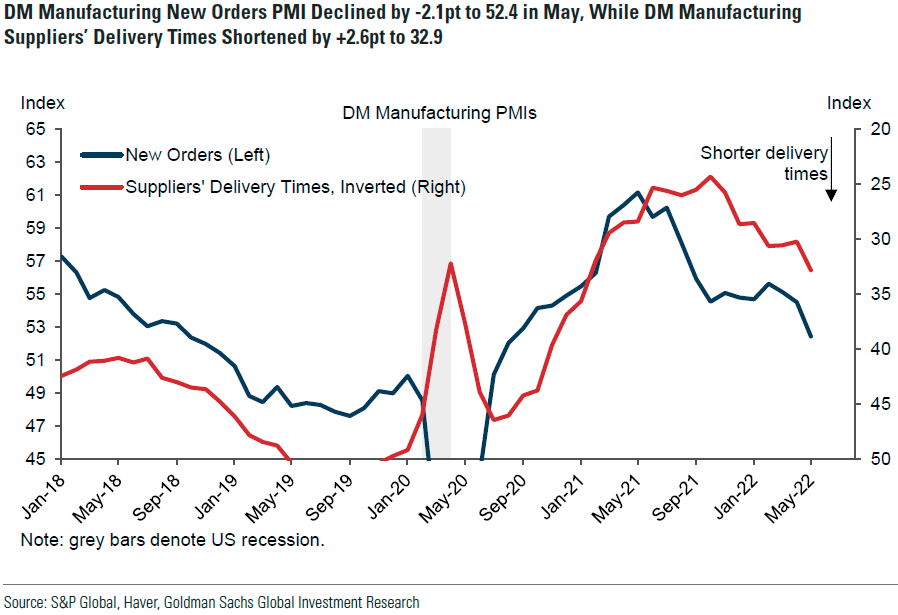 Source: J.P. Morgan, US: Job openings return close to the record high (12/8/21)

November U.S. CPI
The November U.S. Consumer Price Index (CPI) rose 6.8% year-over-year (highest rate since 1982) and the core CPI (ex food and energy) rose 4.9% (most since 1991). According to BLS, the food and energy components had the largest 12-month gains in thirteen years. Shelter costs, which account for about one-third of the CPI, increased 3.8% on the year (highest since 2007). Most economists consider shelter costs as a more persistent type of inflation. In general, the indexes for gasoline, shelter, food, used cars and trucks, and new vehicles were among the larger contributors to the headline CPI. These numbers were roughly as expected. After the release of these numbers, we have even less doubt that the Fed will announce a faster taper schedule at its meeting next week.
Source: J.P. Morgan, US MARKET INTELLIGENCE: MORNING BRIEFING (12/9/21)
Consumer Sentiment
The preliminary Index of Consumer Sentiment for December, published by the University of Michigan on December 10, increased to 70.4 from November's ten year low final reading of 67.4. Inflation expectations remained constant at 4.9% for the year ahead and 3% for the next five years. When asked whether unemployment or inflation was the most serious problem facing the U.S., 76% of respondents chose inflation. The households with the lowest third of incomes showed the biggest increases in sentiment as they expected their incomes to increase by 2.9% during the year ahead. This suggested to the University of Michigan that "an emerging wage-price spiral that could propel inflation higher in the years ahead." It appears that consumers agree with Fed chair Powell that inflation should be the Fed's focus. This survey is based on a minimum of 500 telephone interviews with consumers across the continental U.S. This preliminary survey was based on interviews conducted from November 22 – December 8.


The Attainability of the Shared Goal: "Let the Good Times Roll"
The above discussion seems to indicate that the mantra "let the good times roll" should be readily attainable. But we believe that this very widely held goal will be rather difficult to actually attain. All things being equal, we maintain our confidence in robust economic growth continuing into next year and our conviction that the best risk/reward is exhibited by Value and Cyclical type stocks at current levels. Our investment stance from our commentary of last week remains constant. Nevertheless, many uncertainties remain with regard to Omicron and the inevitable further COVID-19 variants that have yet to develop and appear. Again, our biggest concern relates to potential government and central bank policies. Many geopolitical concerns, which are too numerous to name, are also lurking in the background. Additionally, many governments and central banks seem to be experimenting with various policies as if they were implemented on a trial and error basis. We are in a transition period in our attempt to get to a more normal and recognizable way of life. However, we don't even know how many "transitions" await us.
Financial Market Volatility
Given all the present uncertainties, as well as future uncertainties to come, we continue to anticipate financial market volatility. We fully expect that the most profitable equity strategies will include a "stock pickers" mentality. Therefore, we anticipate that highly speculative stocks with very high multiples will continue to be under pressure. A company's pricing power and ability to maintain their profit margins will be an increasingly important component of a company's attractiveness as an investment. Debt levels of companies will matter again in our opinion. We contemplate that the stocks of companies with disappointing earnings reports will be severely punished. According to a December 7 Citi Research report, Q3 earnings "misses" were "heavily skewed towards punishing earnings misses." These reactions were the most severe since the beginning of 2019. About 20% of the Russell 1000 index missed earnings consensus estimates for Q3. These misses were greeted by an average decline of 4.1% relative to the S&P 500. As uncertainties mount and as policymakers adapt their policies to circumstances as they perceive them, we anticipate that negative company surprises will be met by rather hostile reactions. Fundamentals will become of paramount importance.
Bottom Line
We remain hopeful, but wary that the "good times" will be able to last a while longer. At this juncture, the sustainability of economic growth could be more dependent on the efficacy of governmental and central bank policies. At present, we have confidence in the ability of medical science to "control" and/or "contain" many of the negative effects from COVID-19 and its variants. Irrespective of whether our shared goal is attainable in the short-to-intermediate term, we suspect that the financial markets could continue to experience volatility. Unlike the experience of most of this year, even the major equity indexes could soon experience increased volatility. We assume that the underlying volatility of individual stocks and/or sectors of equity averages will continue. Furthermore, we also anticipate continued volatility in fixed income markets, but with an upward bias to interest rates. We are convinced that equities will become increasingly a "stock pickers" market. If global economic growth rates outside the U.S. are able to extend some of the recent favorable trends, we believe that foreign equities will become increasingly attractive. We trust that this could be especially true with respect to European and EM Asian equities. China's recently announced pro-growth policies are especially encouraging. China's less restrictive approach should also benefit commodities.
INDEX DEFINITIONS
KBW Nasdaq Bank Index (BKX): The KBW Bank Index is designed to track the performance of the leading banks and thrifts that are publicly-traded in the U.S. The Index includes 24 banking stocks representing the large U.S. national money centers, regional banks and thrift institutions.
MSCI EM Value Index: The MSCI Emerging Markets Value Index captures large and mid cap securities exhibiting overall value style characteristics across 27 Emerging Markets (EM) countries.
MSCI EM Index: The MSCI Emerging Markets Index captures large and mid cap representation across 27 Emerging Markets (EM) countries.
NASDAQ: The Nasdaq Composite Index is the market capitalization-weighted index of over 2,500 common equities listed on the Nasdaq stock exchange.
PCE: Personal Consumption Expenditures (PCEs) refers to a measure of imputed household expenditures defined for a period of time.
Russell 1000 Growth: The Russell 1000 Growth Index measures the performance of the large-cap growth segment of the U.S. equity universe. It includes those Russell 1000 companies with higher price-to-book ratios and higher forecasted and historical growth values.
Russell 1000 Value: The Russell 1000 Value Index measures the performance of the large-cap value segment of the U.S. equity universe. It includes those Russell 1000 companies with lower price-to-book ratios and lower expected and historical growth rates.
S&P 500: The S&P 500 Index, or the Standard & Poor's 500 Index, is a market-capitalization-weighted index of the 500 largest publicly-traded companies in the U.S.
VIX: The VIX Index is a calculation designed to produce a measure of constant, 30-day expected volatility of the U.S. stock market, derived from real-time, mid-quote prices of S&P 500® Index (SPX℠) call and put options.
Z-Score: A Z-score (also called a standard score) gives an idea of how far from the mean a data point is. It is a measure of how many standard deviations below or above the population mean a raw score is.
IMPORTANT DISCLOSURES

The views and opinions included in these materials belong to their author and do not necessarily reflect the views and opinions of NewEdge Capital Group, LLC.
This information is general in nature and has been prepared solely for informational and educational purposes and does not constitute an offer or a recommendation to buy or sell any particular security or to adopt any specific investment strategy.
NewEdge and its affiliates do not render advice on legal, tax and/or tax accounting matters.  You should consult your personal tax and/or legal advisor to learn about any potential tax or other implications that may result from acting on a particular recommendation.
The trademarks and service marks contained herein are the property of their respective owners. Unless otherwise specifically indicated, all information with respect to any third party not affiliated with NewEdge has been provided by, and is the sole responsibility of, such third party and has not been independently verified by NewEdge, its affiliates or any other independent third party. No representation is given with respect to its accuracy or completeness, and such information and opinions may change without notice.
Investing involves risk, including possible loss of principal.  Past performance is no guarantee of future results.
Any forward-looking statements or forecasts are based on assumptions and actual results are expected to vary from any such statements or forecasts. No assurance can be given that investment objectives or target returns will be achieved. Future returns may be higher or lower than the estimates presented herein.
An investment cannot be made directly in an index. Indices are unmanaged and have no fees or expenses. You can obtain information about many indices online at a variety of sources including:  https://www.sec.gov/fast-answers/answersindiceshtm.html or http://www.nasdaq.com/reference/index-descriptions.aspx.
All data is subject to change without notice.
© 2022 NewEdge Capital Group, LLC